Damien Dempsey: Bustin Outta Here
New Single & Australian Tour in March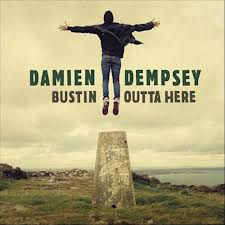 ————————————————————-
 "the greatest Irish Singer of his generation" – The Guardian
"singer Damien Dempsey is a real working-class hero" – The Sunday Times 
"for me he's the best of Irish music" – Brian Eno
Since the release of his album "Almighty Love" in September last year, Damien Dempsey has sold out a 3 month tour of Ireland, sold out the Electric Ballroom in London, and confirmed an Australian tour for March 2013, including a headline show at Sydney Opera House on St Patrick's Day, as well as featuring on TV and Radio shows across the UK and Ireland.
 The new epic song, 'Bustin Outta Here' features Sinead O'Connor on backing vocals and is about taking control of your life and finding the positive.
 Damien says "This song is about getting out of a situation that's bad for you or breaking out of the headspace where you're seeing the bad in everything, beating yourself up, neglecting your inner soul, afraid to be childlike…  Don't be beating yourself up, man.  There'll be plenty of people to do that for you."
 For Damien Dempsey, people and place are King. His voice is Dublin yet wholly distinctive, almost clichéd to say it, but he is part of a rich bloodline of Irish singers from Luke Kelly to Ronnie Drew, Christy Moore to Andy Irvine. Their kin outside Ireland are Springsteen and Guthrie, Dylan and Marley.
 Damien is an award-winning artist, having won 6 prestigious Irish Meteor Awards including Best Irish Male and Best Traditional Folk Award. His albums have topped the charts and gone Platinum, and he has been lauded by, among others, Rolling Stone, The Guardian, Billboard, MOJO and The Sunday Times.
 Since the release of his last album, Damien's creativity has found other outlets also. One notable project was with Irish graffiti artist Maser, on a project entitled 'They Are Us'.  Maser & Damien first met after a message from Maser appeared on the side of a Dublin building "Damien Dempsey gives me hope". The 'They Are Us' project grew out of this and had a real influence on people in Dublin.
 It was even quoted by Edna O' Brien in her internationally bestselling memoir 'Country Girl' "On a bridge on our way, I had read a sign that told it all, "Greed is the knife-the scars run deep"….". 
 Maser has also directed the video for 'Bustin' Outta Here'. Check it out below:
 "Damien hits you in the heart. His work is like a great movie." – Paddy Considine
 ——————————————————–
 AUSTRALIAN TOUR DATES
 15 March The Bakery Northbridge, WA
16 March The HI FI Melbourne, VIC
17 March Sydney Opera House, NSW
26 March The Entertainment Centre, Darwin
27 March The Contemporary Arts Centre, Cairns
http://centre-of-contemporary-arts-cairns.com.au
28 March The Old Museum, Brisbane
31 March Bluesfest, Byron Bay