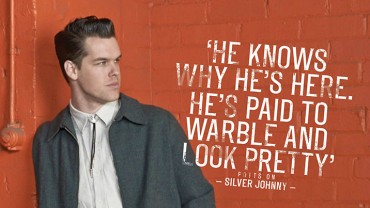 Lead singer of The Snowdroppers to feature in new Sydney Theatre Company play: MOJO.
MAY 17 – July 5 in Sydney. Tickets on sale here now: http://www.sydneytheatre.com.au/mojo
Jez Butterworth's brutally funny journey through the seedy, amphetamine-fuelled London rock scene of the 1950s follows a gang of would-be power-players who, seduced by the promise of fame and fortune, battle for control of hot teen singing idol, Silver Johnny.
In the hands of director Iain Sinclair (Our Town, Blood Wedding) Mojo is a tightly-wound thriller which examines with grim humour the dark underside of the halcyon days of rock 'n' roll.
A sensational collision of Tarantino-esque shock and Jacobean revenge, the story starts with the discovery of a jealous nightclub owner's body sawn in half… and then things start to get sticky.
Alternately hilarious and terrifying, and featuring live music, this is the play that won Butterworth an Olivier Award and kickstarted a new wave of British crime genre pieces including Guy Ritchie's popular flick Lock, Stock and Two Smoking Barrels.
Jeremy Davidson, lead vocalist of local blues-rock outfit The Snowdroppers, makes his stage debut as Silver Johnny, surrounded by a testosterone-fuelled cast of snappily-dressed, menacing 50s teddy boys and rockers led by Eamon Farren and Josh McConville.
WATCH TRAILER: