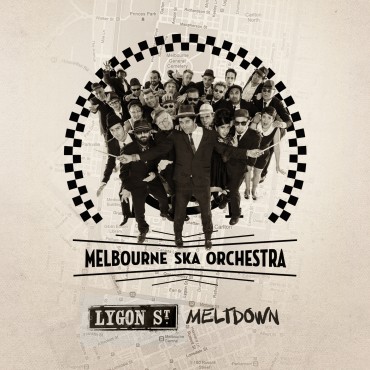 Get Ready…MELBOURNE SKA ORCHESTRA  are coming!
Since their debut release in March 2013, this 25 piece ramshackle train of upbeat goodness have been smashing audiences in Australia and New Zealand picking up awards and nominations aplenty.
Comprising many of Australia's best musicians, the MSO are embarking on their first adventure into the northern hemisphere, performing in the UK and Canada.
Melbourne Ska Orchestra's legendary stage performances, incorporating a 15 piece horn troupe, fronted by NICKY BOMBA (of John Butler Trio fame) are set to ignite crowds at the legendary Glastonbury Festival, Montreal Jazz Festival plus huge shows across Canada.
MELBOURNE SKA ORCHESTRA – UK & CANADA – 2014 
THUR JUNE 26– THE FORGE – CAMDEN – LONDON – Tickets – http://www.londoninternationalskafestival.co.uk/tickets/
FRI JUNE 27– GLASTONBURY FESTIVAL
SAT JUNE 28– GLASTONBURY FESTIVAL
MON JUNE 30 – MONTREAL JAZZ FESTIVAL
TUES JULY 1– MONTREAL JAZZ FESTIVAL
WED JULY 2 –MONTREAL JAZZ FESTIVAL – Tickets – http://www.montrealjazzfest.com/default-en.aspx
THUR JULY 3– FESTIVAL D'ETE – QUEBEC CITY – Tickets – http://www.infofestival.com/
FRI JULY 4 –YONGE – DUNDAS SQUARE – TORONTO
SAT JULY 5 –NORTHERN LIGHTS FESTIVAL BOREAL – ONTARIO – Tickets – http://nlfbsudbury.com/
UK REGGAE STEADY SKA Album of the year,
ARIA Best Blues and Roots Album Nomination
ARIA Engineer of the year Nomination
APRA Best Blues and Roots Song Nomination 2014
"Verdict – Infectious" – Daniel Johnson – Daily Telegraph 
"…the MSO shows just how much fun can be hadwith a cracking tune, great players and a keen sense of humour" – Polly Coufos – The Australian Newspaper
"…step-lively takes on everything from the 'Get Smart' themeto "Papa's got a Brand New Ska" – Rolling Stone Magazine