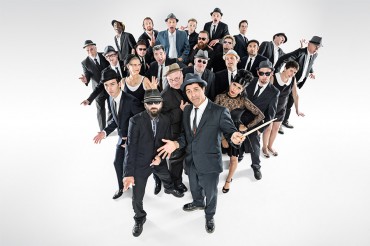 MELBOURNE SKA ORCHESTRA had an incredible year in 2013 with the release of their debut album taking things up a notch or ten.
MSO was nominated for an ARIA award for Blues and Roots album of the year and took out the Age EG World Music and the Reggae Steady Ska album of the year awards.
However, it is the stage where this 30-odd piece truly shine. MSO started selling out headline shows within a few months of their album release and have become a highlight of the National festival circuit with a sway of high profile International offers starting to land.
Fronted by Nicky Bomba (Bomba, John Butler Trio, Bustamento), MSO bring an 18 piece horn section, a mean rhythm section, percussionist, organist, keys and 4 singers. The "Get Smart" Tour demands you to get your body moving with the life force that is MELBOURNE SKA ORCHESTRA.
GET SMART TOUR PRESENTED BY THE MUSIC
FRI MARCH 14 – HQ – ADELAIDE W/EL MOTH – BUY TICKETS HERE
SAT MARCH 15 – HI FI BAR – MELBOURNE W/EL MOTH & DJ KILMARNOCK STEVE – BUY TICKETS HERE
FRI MARCH 21 – HI FI BAR – BRISBANE W/BELLYAS – BUY TICKETS HERE
FRI MARCH 28 – HI FI BAR – SYDNEY W/TBC – BUY TICKETS HERE
LISTEN HERE: