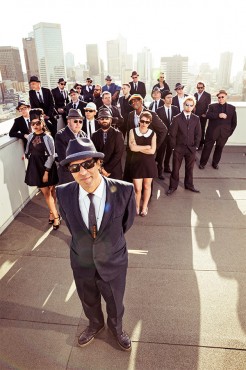 Melbourne Ska Orchestra (MSO) hit the road earlier this year to celebrate the release of their debut self-titled album. Managing to fill venues with hoards of smiling faces and dancing bodies. . A 100% strike rate of rave reviews, packed venues with hoards of smiling faces and dancing bodies, the grand adventure is well and truly underway.
Although touring 30+ members is no mean feat, the time has come to hit the road again and take this unique ramshackle train a little farther afield. Starting in Brisbane at the BigSound conference in September, MSO will then travel to Adelaide and Western Australia, before heading back to the East Coast for a Sydney show and run of festivals including; Caloundra and Queenscliff.
An explosive celebration of music unfolds on stage with some of Australia's finest musicians, when the 30-odd piece orchestra hits the stage. Imagine the force of an 18 piece horn section, a mean rhythm section, percussionist, organist and 4 singers and you may only begin to understand the life force that is the Melbourne Ska Orchestra.
Fronted by Nicky Bomba (Bomba, John Butler Trio, Bustamento), with his professional, energetic and impulsive conducting style, Melbourne Ska Orchestra is a fun-loving big band experience. Influenced by the golden ska period of the 60's, the 2Tone jump up from the UK, their new album of original material showcases the international quality of their songs. A massive hit at festivals; the MSO is fast becoming a must-see institution with members hailing from some of the best ska and reggae bands in Australia.
Out now on FOUR|FOUR, the self-titled debut album from the Melbourne Ska Orchestra is the culmination of years of passion and performance from one of the most energetic and inspired ensembles currently winning over audiences right across the country. This is music at its most entertaining; vibrant, surprising, and with a beat to shame the Devil. This is Ska.
Keep your eyes and ears peeled for the new single release, late August. "The Diplomat". Featuring vocals by Nicky Bomba, the sultry Rebecca Ari and Pat Powell ('Best Things In Life Are Free', as seen on the National Freeview TVC), and with that distinctive Big Band sound, the song is sure to get your money maker skankin.
————————————————————————–
"The gig was amazing". – Lachlan Douglas, Scene Magazine
"The sheer amount of manic movement and spirited skanking evident at the show simply proves the power of Ska and Reggae. There's something in the music that makes people move without thinking, seemingly hypnotized." – Jon Jobbagy – AU Review
"It's a crime that the Melbourne Ska Orchestra are not more popular… The MSO put on an outstanding show that lit up the room and they wrung every ounce of enjoyment out of a crowd that ignored any specific demographic and who were all there together to skank Friday into oblivion. Mission accomplished." – Matt MacMaster – The Music/Drum Media
————————————————————————–
Melbourne Ska Orchestra present "THE DIPLOMAT TOUR"
Presented by: dB Magazine, X-PRESS Magazine & The BRAG
Saturday 21st Sep
The Gov, Adelaide SA
www.thegov.com.au
59 Port Rd HINDMARSH
Tickets $35 + bf from , www.oztix.com.au & www.moshtix.com.au
Friday 27th Sep
Fly By Night, Fremantle WA
www.flybynight.org
Parry St, FREMANTLE
Tickets $35 + bf from www.flybynight.org
Doors open 8pm
Saturday 28th Sep
Astor Theatre, Perth WA
www.liveattheastor.com.au
659 Beaufort St, Mt Lawley, PERTH
Tickets $35 + bf from the venue, www.showticketing.com.au & (08) 9370 5888
18+ unless accompanied by a parent or legal guardian
Doors open 7.30pm
Sunday 29th Sep
Wave Rock Weekender, WA
For all ticketing and bill info go to www.soulhighway.com.au
Saturday 9th Nov
Factory Theatre, Sydney NSW
www.factorytheatre.com.au
105 Victoria Road, Marrickville, SYDNEY
Tickets $30 + bf from www.ticketek.com.au
Doors open 8pm
ALSO PLAYING:
Sep 11th & 12th
BIGSOUND, Brisbane
For all details go to: http://www.qmusic.com.au/bigsound/2013/
Saturday 5th Oct
Caloundra Music Festival
Kings Beach, CALOUNDRA
with Boy and Bear, Xavier Rudd, Katchafire, The Basics + many more
For all ticketing and line up info go to www.caloundramusicfestival.com
Saturday 23rd Nov
Queenscliff Music Festival
with The Living End, John Butler Trio, The Grates, Spiderbait + many more.
For full line up and ticketing details go to www.qmf.net.au