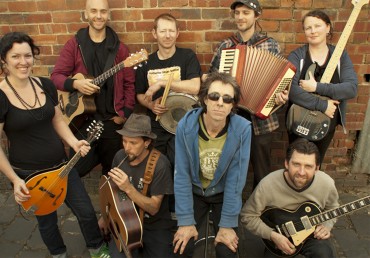 In the misty days before Celtic Punk was ever a scene, Melbourne locals MUTINY were busy pioneering it – now, more than 20 years after their inception, they release the next chapter in the saga, the retrospective album Drink to Better Days. Since 1991, MUTINY have been bringing their gypsy-jazz-pirate-folk-punk jigs of anti-establishment to punks both here and abroad – Drink to Better Days weaves these halcyon days of grit, grind and mandolins together.
Folk punk for punk folk is and always has been MUTINY's ethos, emerging in its infancy from the politically turbulent times of Melbourne's squat scene. MUTINY fuses the uniqueness of the Australian experience with the folk-drenched sounds of the mandolin and piano accordion. Their music evolved over the years and through time spent abroad, the influence of tearing it up in countries such as Germany, France, Slovenia and Croatia seeping through into their music, resulting in cleverly cultivated masterworks like albums Rum Rebellion, Co-Op Brewery and EPs Bodgy Tatts and Bag of Oats.
Drink To Better Days is the next chapter in the life of Mutiny. A 20 year retrospective, it looks to bring the band's best and most exciting material together in one place, a reminder, if you will,
that this is a group that never really left. As guitarist Greg Stainsby sums up, "I started to imagine this compilation of our tracks as a kind of Noah's Arc, preserving the songs for future generations, and those that miss the boat may fade, so we have packed in as much audio that can possibly fit on a CD."
Featuring tracks from the earliest epoch of MUTINY's history, Drink To Better Days is replete, grounded in the past, present, and almost inevitably the future, the culmination of two decades of music history from these genre-makers.
MUTINY // DRINK TO BETTER DAYS
RELEASED SEPTEMBER 27TH THROUGH FOUR | FOUR
STREAM THE TITLE TRACK NOW // DRINK TO BETTER DAYS:
www.mutiny.com.au