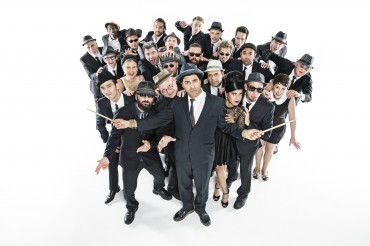 The guys from Melbourne Ska Orchestra are jumping out of their suits with excitement this week as they get ready to bring the party to you on the Melbourne Ska Orchestra ALBUM LAUNCH TOUR – kicking off this Friday in Sydney.
With over 30 of them in tow, it's a RARE chance to see them outside of festival land where they have been making big noise for a while now.
Showcasing their brand new self-titled album – which we released in March. The love has been strongly felt from fans and after some monster shows at Golden Plains and Byron Bluesfest, tickets are selling fast.
This will be their FIRST time in Sydney and Brisbane. And though Melbourne skankers have had the pleasure before, prepare for serious special-guest action in all 3 shows.
Melbourne has The Strange Tenants (need we say more – The Godfathers Of Australian Ska), Sydney, The Auskas, and Brisbane, The Cheap Fakes. This is as well as Mista Savona on the decks, or in Melbourne with Savona Sound System featuring some of Melbourne's finest MCs.
Up front and skankin' will be Mr Charisma himself, conductor Nicky Bomba, with the talents of MSO siren Rebecca Ari, the soulful Pat Powell and ska-tastic Stevie Montgomery. Not to be forgotten is the killer 14 to 19 piece horn section, expert percussion & steel pans and powerhouse rhythm section.
Showcasing new songs and classics, this is going to be something very special. So, iron your suits and dresses, get your best hats and style up for the MELBOURNE SKA ORCHESTRA ALBUM LAUNCH TOUR.
Don't miss out!
PRESENTED BY… ABC DIG MUSIC & SPA
Friday 3rd May
THE METRO
SYDNEY, NSW
with Special Guests "AUSKAS" + "MISTA SAVONA" (DJ Set)
Doors open 8:00pm
BUY TICKETS $30 + BF from www.ticketek.com.au
Saturday 4th May
THE FORUM THEATRE
MELBOURNE, VIC
with Special Guests "STRANGE TENANTS" + "SAVONA SOUND SYSTEM"
Doors Open 8:00pm
BUY TICKETS $30.00 + BF from www.ticketmaster.com
Saturday 11th May
THE TIVOLI
BRISBANE, QLD
with Special Guests "CHEAP FAKES" + "MISTA SAVONA" (DJ Set)
Doors Open 7:30pm
BUY TICKETS $30 + BF from www.ticketek.com.au
"…the MSO shows just how much fun can be had with a cracking tune, great players and a keen sense of humour"
Polly Coufos – The Australian Newspaper
"Verdict – Infectious"
Daniel Johnson – Daily Telegraph
"…they've done the genre proud"
Daniel Johnson – Courier Mail