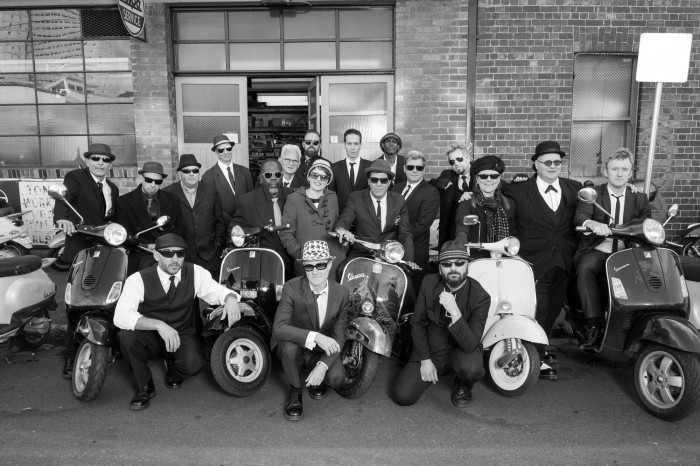 Only three years from Melbourne Ska Orchestra's debut album –sees the release of their second album, Sierra-Kilo-Alpha, April 22, 2016 – picking up where they left off, taking the age old style of Ska and adding to it with aplomb. The band's debut resulted in sell-out shows both in Australia and abroad, many high profile festival appearances internationally, a slew of award nominations and some wins both here and in the UK.
Sierra-Kilo-Alpha is the Melbourne Ska Orchestra's own history – a nod to the past with an eye firmly on the future, dangerous and free. Recorded at the ABC and Freeburgh studios in Melbourne, in the winter of 2015. Sierra-Kilo-Alpha throbs with hope, excitement and freshness. The band has recently signed record deals in both the US and the UK, after two years of very successful touring to the regions. So 2016 will see the new record released across the globe, with touring to follow.
MSO's live performance is nothing short of spectacular, sometimes tipping the 30 player mark. The National album launch tour kicks off at The Night Quarter on the Gold Coast, April 22. Touring with between 20 and 30 band members at all times MSO will play both capital city and regional dates, spanning from April to June. Showcasing new songs from Sierra-Kilo-Alpha, fans are in for a treat; it will be an unstoppable dance floor across the nation!
All of this before the band head over to the UK in August, to play at The Garage in London, Kaya World Music Festival and Boomtown. 2016 sees Melbourne Ska Orchestra off and running, at break neck speed…
Get your tickets to one of the album launch shows now before you miss out!
Presented By: RHYTHMS, TONEDEAF, SCENESTR, THE BRAG & BEAT
Fri 22nd April
THE NIGHT QUARTER, Gold Coast QLD
www.nightquarter.com.au / 1 Town Centre Dr, Helensvale
Tickets $35 + bf from www.oztix.com
Doors 6pm
Sat 23rd April
THE TRIFFID, Brisbane QLD
w/ Special Guests CHEAP FAKES
www.thetriffid.com.au / 9 Stratton St, Newstead
Tickets $35 + bf from www.oztix.com
Doors open 8pm
Sun 24th April
SOL BAR, Sunshine Coast QLD
www.solbar.com.au / Ocean St, Maroochydore
Tickets $35 +bf from venue & www.oztix.com.au
Doors open 8pm
Fri 13th May
MANNING BAR, Sydney Uni NSW
w/ Special Guests Hot Tomato Band
www.manningbar.com / Manning Rd, Camperdown
Tickets $35 + bf from www.oztix.com
Doors open 8pm
Sat 14th May
THE GRAND ARCH, Jenolan Caves Blue Mountains NSW
A Special Night, with guests THE RHYTHM HUNTERS
Jenolan Caves Rd, Jenolan Caves NSW
Early bird tickets $50 + bf for limited time, $60 + bf GA from https://www.stickytickets.com.au/35437
Doors open 6pm
Fri 20th May
THE GOV, Adelaide SA
w/ Special Guests GORILLA JONES
www.thegov.com.au / 59 Port Rd, Hindmarsh ADELAIDE
Tickets $35 + bf from www.oztix.com
Doors 8pm
Sat 28th May
MAX WATT'S, Melbourne VIC
w/ Special Guests KOOYEH
www.maxwatts.com.au / 125 Swanston St, MELBOURNE
Tickets $35 +bf from https://maxwatts.ticketscout.com.au
Doors open 8pm
Fri 24th June
SAWTELL RSL, Coffs Harbour NSW
www.offbeatoperations.com.au / First Avenue, Sawtell NSW
Tickets $30 +bf from www.oztix.com
Doors 7.30pm
Sat 25th June
MULLUMBIMBY CIVIC HALL, Mullumbimby NSW
55 Dalley St, Mullumbimby NSW
Tickets A$32.00 +BF &cc / Y$26.00+BF&cc / C$20.00+BF&cc / under 5yrs free – from www.redsquaremusic.com.au
Doors 7.00pm
FUNKCHUNK single is available now
LISTEN HERE
New Album SIERRA-KILO-ALPHA, out April 22
Via FOUR|FOUR