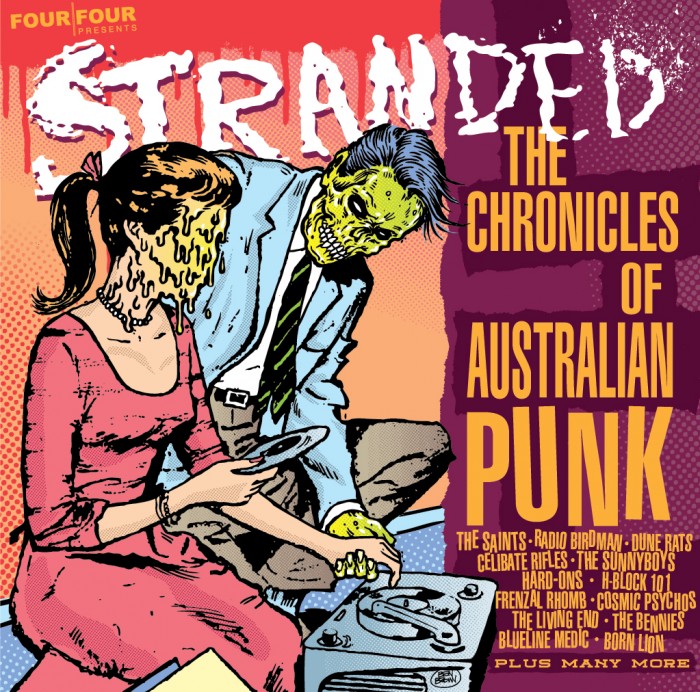 FOUR | FOUR presents a retrospective tour of the world class Australian Punk Music scene spanning over almost 40 years.
Despite its distance to the rest of the world, Punk rock music in Australia has always had a strong reputation worldwide for being a pioneering and innovative force to be reckoned with.
Including everything from The Saints and Radio Birdman right through to Frenzal Rhomb, Born Lion and The Smith Street Band. 'Stranded' comes as a double album with a whopping 51 tracks; the first looking at the earlier years of the genre in Australia, and the second album touching on many more of the contemporary bands.
Punk rock remains a massive ball of energy to this day in Australia, and this compilation showcases many of the bands who stand proudly alongside their contemporaries all over the world!
Artwork design by Ben Brown
Liner notes by Iain Shedden
TRACK LISTING
CD 1:
1. The Saints – (I'm) Stranded
2. Razar – Taskforce (Undercover Cops)
3. The Leftovers – I Only Panic When There's Nothing To Do
4. The Last Words – Animal World (78 studio version)
5. Radio Birdman – New Race
6. Fun Things – Savage
7. Babeez – Dowannalove
8. The Thought Criminals – Fuck the Neighbours
9. The Survivors – Baby Come Back
10. The Birthday Party – Release the Bats
11. The Riptides – Only Time
12. The Stems – She's a Monster
13. Sunnyboys – Alone With You
14. La Femme – Chelsea Kids
15. Vampire Lovers – Buzzsaw Popstar
16. Celibate Rifles – Some Kinda Feeling (Live at CBGB's)
17. Voodoo Lust – Gossip
18. God – My Pal
19. The New Christs – I Swear
20. The Eastern Dark – Johnny and Dee Dee
21. Hard-Ons – The Girl in the Sweater
22. The Meanies – 10% Weird
23. Died Pretty – Winterland
24. The Screaming Tribesmen – I Got a Feeling
25. X – Delinquent Cars
CD 2:
1. Frenzal Rhomb – Punch in the Face
2. Nancy Vandal – Bikini High Pool Party Massacre 3
3. Bodyjar – Not the Same
4. The Living End – Second Solution
5. Front End Loader – Pulse
6. H-Block 101 – Group Dynamics
7. Mid Youth Crisis – Know Something
8. Blueline Medic – Making the Nouveau Riche
9. The Disables – ASIO
10. A Death in the Family – Erasing the Maps
11. The Nation Blue – We Lost Everything
12. Born Lion – Good Dogs Play Dead
13. Toe to Toe – Falling Short
14. Parkway Drive – Boneyards
15. Mindsnare – Bulldozed
16. Eddy Current Supression Ring – Which Way to Go
17. Royal Headache – Psychotic Episode
18. The Smith Street Band – Sigourney Weaver
19. The Bennies – Knights Forever
20. The Rumjacks – No Pockets in a Shroud
21. Mutiny – 80 Punks & an Old P.A.
22. Bad//Dreems – Dumb Ideas
23. Violent Soho – Covered in Chrome
24. The Peep Tempel – Carol
25. Dune Rats – Red Light, Green Light
26. Cosmic Psychos – Nice Day to Go to the Pub
'Stranded: The Chronicles of Australian Punk' – Double album is out November 20
BUY HERE: https://ABCMusic.lnk.to/stranded