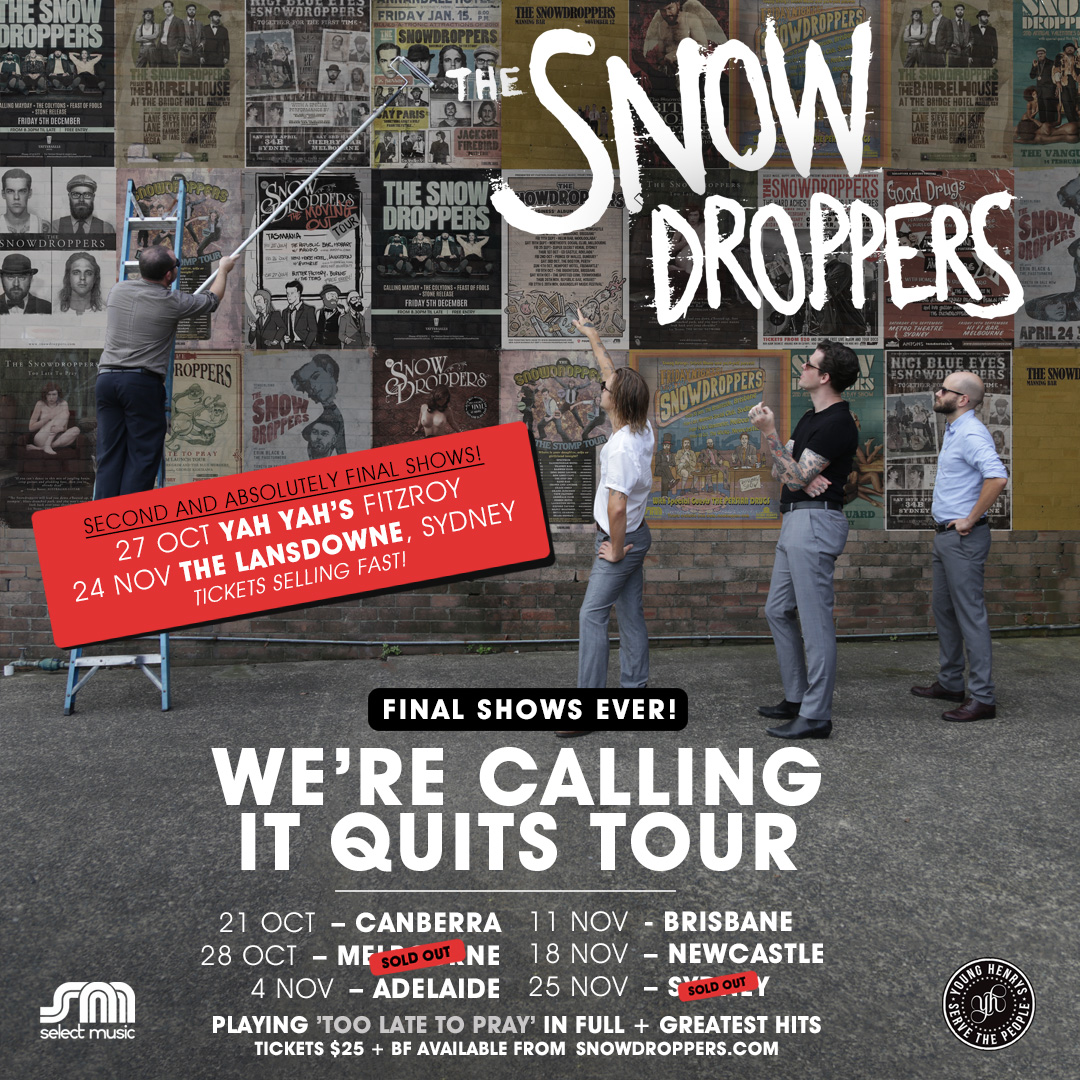 SYDNEY AND MELBOURNE SOLD OUT!
SECOND AND FINAL SHOWS ANNOUNCED!
WITH SPECIAL GUESTS GAY PARIS + THE STIFFYS
THE LANSDOWNE, SYDNEY, YAH YAH'S, MELBOURNE
2017 marks ten long years since THE SNOWDROPPERS first got in a room together to see if we could learn a handful of covers to play at a burlesque variety show… London, Pauly K, Cougar Jones and Johnny Wishbone – with no idea that it would dominate our lives for the next decade.
We've seen a lot of things come and go over the years- three albums and an EP, countless tours, festivals and support slots around Australia, several overseas trips, broken bones, more long drives and airport lines than you can shake a large Big Mac meal at, and have somehow managed to come out the other side sane and still kicking.
It's this kind of milestone that tends to make a band look back with pride on all their accomplishments, thankful of all they've been able to experience and look towards the next ten years with renewed purpose and vigour!
…Not us though, we're sick of it and are going to OFFICIALLY CALL IT QUITS after one last run of shows. This is it folks, we're hanging up the suspenders, burning the banjo and putting London back in the cabinet!
To celebrate our tenth anniversary and say farewell – we'll be playing Too Late to Pray in full and a selection of our other favourites. We'll even be releasing a very limited number of 'Too Late to Pray' 12 inch vinyl.
We would love to see you all one last time – don't miss it!
WE'RE CALLING IT QUITS TOUR – FINAL EVER SHOWS
PLAYING 'TOO LATE TO PRAY' IN FULL + GREATEST HITS
SAT 21 OCT – TRANSIT BAR, CANBERRA
With Special Guests The Barron Spinsters + Teen Jesus and the Jean Teasers
FRI 27 OCT – YAH YAH'S, MELBOURNE [SECOND AND FINAL SHOW!]
With Special Guests The Stiffys + Keggin
SAT 28 OCT – NORTHCOTE SOCIAL CLUB, MELBOURNE [SOLD OUT]
With Special Guests The Stiffys + The Sex Pills
SAT 4 NOV – JIVE, ADELAIDE
With Special Guests Kitchen Witch + Donnarumma 
SAT 11 NOV – BRIGHTSIDE, BRISBANE
With Special Guests Wolf!Wolf!Wolf + Flight Ibis
SAT 18 NOV – THE WICKO, NEWCASTLE
With Special Guests IVY
FRI 24 NOV – THE LANSDOWNE, SYDNEY [SECOND AND FINAL SHOW!]
With Special Guests Gay Paris + Born Lion
SAT 25 NOV – THE FACTORY THEATRE, SYDNEY [SOLD OUT]
With Special Guests Gay Paris + That Red Head + The Good Mornings
TICKET AND TOO LATE TO PRAY 12" VINYL:
$55 + booking fee on sale Monday 22 May 2017 available from www.snowdroppers.com