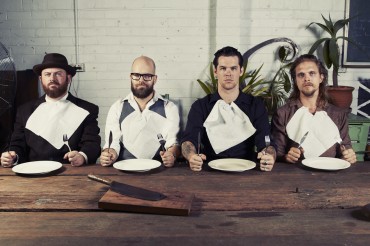 After your excellent feedback and some inspired band meetings (held over the finest cans of European export lager), we've decided that the third and final single from our sexy sophomore album 'Moving Out of Eden' will be 'So Much Better', and we've organized a National Moving Out Tour to bring it to you live this September!
'So Much Better' (at making each other feel worse) is a dancy little ditty about how much easier it is to twist a knife into someone when they're someone you love. It celebrates the fact that as we learn to love, we learn to hurt. The Snowdroppers endorse learning in all its facets. It also has some sweet bass licks in the outro.
We're going to spend what's left of 2013 traveling around with our best rock n roll pals Gay Paris and a pantload of other like-minded bands. Once the tour is over we'll return to the writing dungeon for album #3, so this may be your last chance for a while to come and get down with us!
GRINSPOON EAST-COAST SUPPORT
Wednesday 7 August – The Station Resort, Jindabyne NSW
Friday 9 August – The Corner Hotel, Melbourne VIC
Friday 10 August – Enmore Theatre, Sydney NSW
THE SNOWDROPPERS 'MOVING OUT' NATIONAL TOUR
Tickets on-sale Tuesday July 23
Friday 6 September – Alhambra Lounge, Brisbane QLD
Saturday 7 September – Jive Bar Adelaide SA
(Black) Friday 13 September – John Curtin Band Room, Carlton VIC
Friday 20 September – Annandale Hotel, Annandale NSW
Saturday 21 September – The Annandale Hotel, Annandale NSW *not with Gay Paris
Ticket details here: http://www.snowdroppers.com/#tourdates
————————————————–
LISTEN TO 'SO MUCH BETTER' HERE:
"Full of catchy upbeat tracks and a few to tug a worn out heart string, the 10 track LP [Moving Out of Eden] will leave you feeling dirty, sleazy with a good kick in the face… in the best way possible." – The AU Review
"The release [Moving Out of Eden] is being praised as a much more streamlined version of the swampy, bluesy vibe. In other words, they've kept the balls, but found a much more grounded way to use them." – Music Feeds
"The new tracks show their movement into a more defined rock genre – good old Aussie rock n roll that is refreshingly honest and gets you out of your seat and dancing your ass off." – Push To Fire
THE SNOWDROPPERS' NEW ALBUM 'MOVING OUT OF EDEN' IS OUT NOW