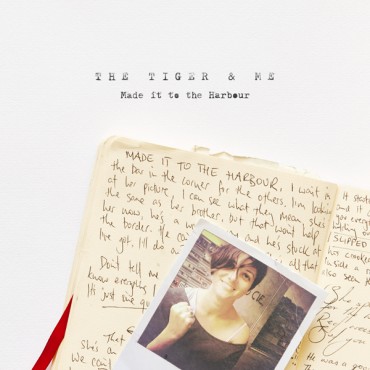 LISTEN TO THE SONG HERE
Melbourne sextet 'The Tiger & Me' are not afraid to explore each end of the musical spectrum with their sound being described as 'charming pop', 'explosive dirty rock' and 'dark-hued folk'. Their new single Made it to the Harbour sits clearly in the pop folk foot-tappin' category.
Coming in at just under two and a half-minutes, Made it to the Harbour breaks convention in form. Made up of three verses and two choral instrumentals, the song is essentially an extended crescendo, achieved by gradual introduction of instruments playing short, live, loops. By the end, Hammond organ, Indian tabla drums and a chorus of singers have joined the band's regular instrumentation to provide an energetic climax.
Made it to the Harbour is the follow up single to Pantomime, the infectious pop tune which was the first release from the band's second full length album, The Drifter's Dawn. After teaming up with producer Steven Schram (Little Birdy, The Cat Empire, San Cisco) they spent countless hours working together in the studio to create an album that truly harnessed the raw energy and intensity of their live shows. The Drifter's Dawn was released under ABC Music imprint FourIFour.
Once again, The Tiger & Me are ready to get their show on the road, with a string of live dates around the country supporting the release of Made it to the Harbour.
Made it to the Harbour Tour
Friday, 1st March Riverside Live, Southbank
Sunday, 3rd March The Retreat Hotel, Sydney Road Street Party
Friday, 15th March 2013 The Elsternwick Hotel
Friday, 22nd March 2013 Queen Street Mall, Brisbane
Saturday, 23rd March 2013 The Joynt, Brisbane
Sunday, 24th March 2013 Queen Street Mall, Brisbane
Sunday, 24th March 2013 The Beach Hotel, Byron Bay
Tuesday, 26th March 2013 The Vanguard, Sydney
Thursday, 28th March 2013 Hotel Steyne, Sydney
Sunday, 31st March 2013 Bennett's Lane
Saturday, 13th April 2013 Northcote Social Club
"Driven by the trio of voices, which partner effortlessly with the underlying music, the record sometimes thunders, it sometimes whispers, the plethora of melody, the hooks, bringing you back for more, sticking in your brain as good pop should" – Sydney Morning Herald, 2013
"I love it!" – Rhythms Magazine, 2013
"In the endless striving for an open, honest, unaffected and authentic sound, there is a chance to be left by the wayside as dozens of combos ply the folk-rock route so beloved in Australia. The Tiger & Me are in no such danger. Not only do they have genuine live passion and versatility, but also qualities many of these other bands lack: focus and work ethic." – Inpress Magazine, 2013