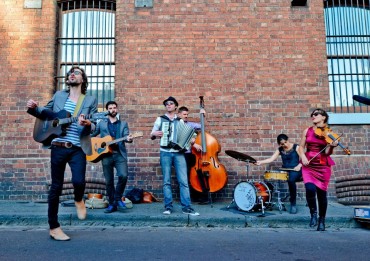 '
Jack Middle of the Broken Heart' is the new single from Melbourne shape-shifters The Tiger & Me. The track comes from the band's second full length album, 'The Drifter's Dawn', produced by Steven Schram (Little Birdy, The Cat Empire, San Cisco) and released under ABC Music imprint FourIFour.
Set over the grooving bass-line and driving guitars, the lyrics tell the tale of a modern day Bonnie and Clyde. Included as the B-side is a much smokier version of the tune recorded by the band before the Drifter's sessions.
Once again, The Tiger & Me are ready to get their show on the road, with a string of live dates supporting the release of 'Jack Middle of the Broken Heart'.
THE TIGER & ME NATIONAL TOUR DATES
Tickets & further information available HERE.
Thursday 25th July – Sydney – The Basement w/The Bearded Gypsy Band
Friday 26th July – Sydney – Blue Beat w/Stone Monks and Drew Harris
Saturday 27th July – Wollongong – City Digger's Club w/The Bearded Gypsy Band
Sunday 28th July – Canberra – Beyond Q
Saturday 10th August – Melbourne – The Toff in Town (Live recording) w/The Nymphs
Sunday11th August – Melbourne – The Toff in Town (Live recording) w/The Nymphs
"Driven by the trio of voices, which partner effortlessly with the underlying music, the record sometimes thunders, it sometimes whispers, the plethora of melody, the hooks, bringing you back for more, sticking in your brain as good pop should"
– Sydney Morning Herald, 2013
LISTEN TO ALBUM VERSION HERE:
https://soundcloud.com/the-tiger-1/sets/jack-middle-of-the-broken
LISTEN TO ALT VERSION HERE:
https://soundcloud.com/the-tiger-1/jack-middle-of-the-broken-1