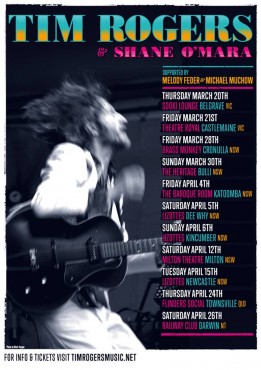 Tim Rogers, one of Australia's most beloved musical Icons gets set to embark on a series of headline shows around the country this coming March and April in support of his latest release "Rogers Sings Rogerstein". With Tim's strong connection to the regional parts of this wide brown land, the forthcoming tour focuses on that bond, taking in regional and outer city areas across NSW, QLD and VIC.
Accompanied by long time friend and musical companion – guitarist Shane O'Mara – the tour sees Tim performing for the first time in Bulli, and well as returning to Newcastle and Kincumber on the 9-date East Coast tour. Support on selected (*) dates will be Alt. Country songstress Melody Feder and multi instrumentalist Michael Muchow who will join forces in a truly special musical partnership not to be missed.
As the frontman of You Am I, one of the essential Australian rock n' roll bands, Tim Rogers has released 10 studio albums, three of which have debuted at number one in consecutive order – 1995's Hi Fi Way, 1996's Hourly Daily and 1998's #4 Record – with the records receiving ARIA Awards and multiple platinum and gold status for commercial sales.
In addition to You Am I, Tim Rogers has released critically acclaimed solo albums, and a number of collaborations with fellow musicians including Tex Perkins, The Temperance Union and The Bamboos. In 2012 Tim released his fifth and most recent solo album (his second without a backing band) the critically acclaimed "Rogers Sings Rogerstein".
VIC
* * * * * * * * * * * * * * * * * * * * * * * *
Thursday March 20th – Sooki Lounge, Belgrave
Friday March 21st – Theatre Royal, Castlemaine
NSW
* * * * * * * * * * * * * * * * * * * * * * * *
Friday March 28th – Brass Monkey, Cronulla
Sunday March 30th – The Heritage, Bulli
Friday April 4th – The Baroque Room, Katoomba
Saturday April 5th – Lizottes Dee Why
Sunday April 6th – Lizottes Kincumber
Saturday April 12th – Milton Theatre, Milton
Tuesday April 15th – Lizottes, Newcastle
QLD
* * * * * * * * * * * * * * * * * * * * * * * *
Friday April 24th – Flinders Social, Townsville
NT
* * * * * * * * * * * * * * * * * * * * * * * *
Saturday April 26th – The Darwin Railway Club, Darwin
BUY TICKETS HERE – http://www.timrogersmusic.net/?page_id=557