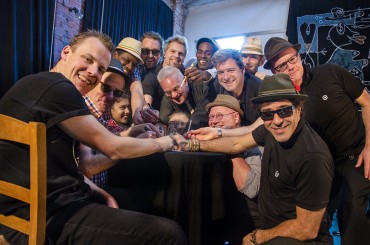 FOUR | FOUR has been very busy in recent months building up a roster that now boasts Tim Rogers, The Snowdroppers, The Tiger & Me, Damien Dempsey and Boy In A Box.
FOUR | FOUR have today announced they have signed festival favourites Melbourne Ska Orchestra.
Founded in 2003 by musical dynamo Nicky Bomba and PBS FM announcer / Jamaican music historian Mohair Slim, Melbourne Ska Orchestra is dedicated to educating and entertaining audiences to the sweet sounds of Jamaican ska, roots music and the evolution of the genre.
Melbourne Ska Orchestra is fast becoming an institution in the Australian music scene with recent performances at the Byron Bay Blues Festival, WOMAD, Apollo Bay & Caloundra Music festival proving without a doubt, the international calibre of this mighty 30 piece orchestra.
Fronted by Nicky Bomba (Bomba, John Butler Trio, Bustamento), with his professional, fun and impulsive conducting style, Melbourne Ska Orchestra is a fun-loving big band experience, with music from the golden ska period of 1963 through to modern day classics. A massive hit at festivals everywhere, Melbourne Ska Orchestra is fast becoming a must-see institution.
Melbourne Ska Orchestra's repertoire covers tracks from 1963 (Skatalites, Wailers) through to the British Two Tone craze (Madness, Specials etc) and anything positive or significant in between. With original tunes, reggae, rocksteady classics and Latin-based ska in the mix, MSO energises audiences, making dancing compulsory!
An explosive celebration of music unfolds, when the 30 odd piece orchestra hits the stage. Imagine the force of more than a dozen horn players, a mean rhythm section, percussionist, 2 organists and 3 singers and you may begin to understand what the skankin powerhouse, Melbourne Ska Orchestra is.
Members hail from some of Australia's leading ska and reggae bands, with past shows featuring special guests including, Joe Camilleri, Jali Buba Kuyateh (Senegal), Dereb Desalegn (Ethiopia), Nadee (Haiti) and international reggae greats such as Carlos Malcolm, Dawn Penn and Stranger Cole.
The band are currently in the studio recording their debut album due for release in March 2013.
Melbourne Ska Orchestra are currently the face of the latest Freeview TV ad which is on high rotation across all networks with their take on the 1920s classic song "The Best Things In Life Are Free".
The song is now available to stream: http://soundcloud.com/fourfourmusic/melbourneskaorchestra-thebestthingsinlifearefree
The song is now available to buy at iTunes also: https://itunes.apple.com/au/album/best-things-in-life-are-free/id578389219?uo=4
**********
Melbourne Ska Orchestra debut album out March 2013 through FOUR | FOUR.
**********
www.melbourneskaorchestra.com | www.fourfourmusic.com